Support
the
Downs
The Books
Middle-earth FAQ
Encyclopedia
The Books
Book List
Articles
Tengwar Scriptor
Chronology
Talking Tolkien
Name Generators
All-in-One
Fun and Games
Middle-earth
Magnets
Personality Test
Gaffer's Proverbs
Crosswords
Grave Matters
Quizzes
Walk to Rivendell
Location Finder
Mad Libs
Malbeth the Seer
LotF
Barrow-Comics
Hanghobbit
Oh! Behave!
Past Contests
Scavenger Hunt
Essay Contest
Missing Story
T-Shirt Contest
Comic Contest
Haiku Contest
Judges Haikus
Discussions
Forum
Forum Index
Chat










The Winner Is....

Lush
Standing in from of the Kõlner Dom
in Kõln (Cologne) Germany.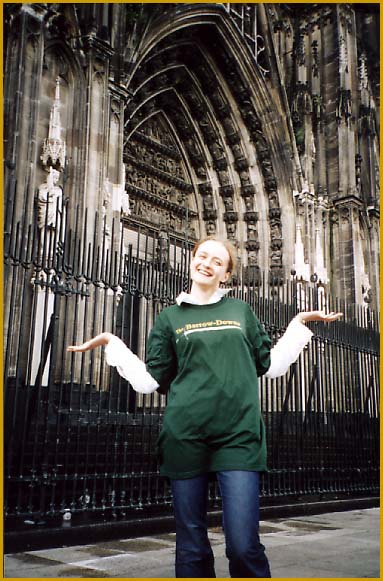 An oversized T-shirt for an oversized church.



This great picture shows one of the great landmarks of Europe, Lush! Wait! We mean the Cathedral in Cologne, Germany. The Cathedral is the heart of the City and forms the center, providing the measure for everything else. 144 metres long, 86 metres wide and with 157-metre-tall spires. It stands on a flat-topped hill that has been a place of worship since the beginning of the city's history.

Excavations on the site have uncovered remains of a Roman heathen temple, but also traces of an early Christian church, which was probably extended in the 6th century and replaced by a Carolingian Cathedral in the 9th century.

Lush, by the looks of her, has not stood yet for even a quarter of a century. We'd never be so rude to guess a woman's dimensions. She now forms the epicenter of a new Barrow-Downs craze on the continent that is sending shockwaves as far as the Pyrenees and the Carpathians. A true force of nature.



What has she won??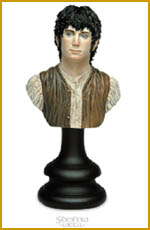 This Beautiful Frodo Bust
created by Sideshow Weta

This polystone statue is
6.75 inches high and will now
look great on Lush's desk or bookshelf.



Wait! We picked a 2nd place!

Bear-o-Downs
by Stacey Uffelman (aka Samwise)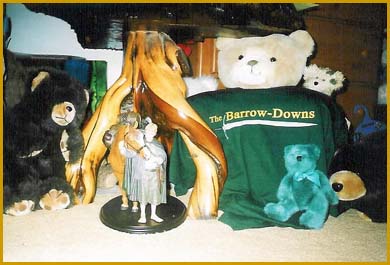 The name was as good as the picture!

What has she won??

A copy of
J.R.R. Tolkien
The Hobbit
An illustrated edition of
the fantasy classic





Congratulations to our winners!










What's New??
Middle-earth
Magnets
Site News
Themes
All Themes
Random
Readers' Section
Fan Fiction
Signs
This Site
Welcome Page
Site News
Contact Us
Our Team
More ...
Tolkien Links