Support
the
Downs
The Books
Middle-earth FAQ
Encyclopedia
The Books
Book List
Articles
Tengwar Scriptor
Chronology
Talking Tolkien
Name Generators
All-in-One
Fun and Games
Middle-earth
Magnets
Personality Test
Gaffer's Proverbs
Crosswords
Grave Matters
Quizzes
Walk to Rivendell
Location Finder
Mad Libs
Malbeth the Seer
LotF
Barrow-Comics
Hanghobbit
Oh! Behave!
Past Contests
Scavenger Hunt
Essay Contest
Missing Story
T-Shirt Contest
Comic Contest
Haiku Contest
Judges Haikus
Discussions
Forum
Forum Index
Chat







The Fellowship of the Ring
Inger Edelfeldt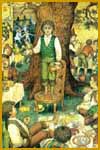 click artist or image

Book I - Chapter 1
A Long-Expected Party
Bilbo and Frodo Baggins, cousins who share a home in Hobbiton, also share the same birthday, 22 September. To celebrate Bilbo's 111th and Frodo's 33rd, the two hobbits stage the biggest Party ever to be thrown in the Shire. They invite everyone for miles around, but only 144 of their closest friends and relative are admitted entrance into the banquet pavillion. At the feast, Bilbo gives the obligatory speech and then, to the amazement of most of his guests, vanishes in a flash of light and a cloud of smoke.

The old hobbit rushes back to his home to gather the few belongings he has prepared for a journey. Bilbo is leaving the Shire, and he doesn't plan on coming back. He has legal made Frodo the heir to his estate, including his golden ring that makes its wearer invisible. Just as he is leaving Gandalf the wizard appears to bid him farewell. Gandalf finds that Bilbo has not left the ring on the mantlepiece as he promised he would. The wizard insists that Bilbo leave the it behind, and the two argue. At last, Bilbo is convinced to include the ring with the house keys and paper, and he slips out into the night, never to be seen in the Shire again.

Frodo is left with seeing the guests off and cleaning up the mess of the Party, a chore which lasts well into next day. He receives many visitors asking the whereabouts and status (and sanity) of Bilbo, but has no answers for them. Some of the hobbits get small gifts specially prepared for them by Bilbo. Finally, Frodo sits back to relax, worn out and tired. Gandalf stops by to inform him that he, too, is leaving the Shire. Frodo watched the wizard walk down the road and out of sight. He did not see him again for some time.



Previous Chapter / Next Chapter

Back to TOP OF PAGE







What's New??
Middle-earth
Magnets
Site News
Themes
All Themes
Random
Readers' Section
Fan Fiction
Signs
This Site
Welcome Page
Site News
Contact Us
Our Team
More ...
Tolkien Links