Support
the
Downs
The Books
Middle-earth FAQ
Encyclopedia
The Books
Book List
Articles
Tengwar Scriptor
Chronology
Talking Tolkien
Name Generators
All-in-One
Fun and Games
Middle-earth
Magnets
Personality Test
Gaffer's Proverbs
Crosswords
Grave Matters
Quizzes
Walk to Rivendell
Location Finder
Mad Libs
Malbeth the Seer
LotF
Barrow-Comics
Hanghobbit
Oh! Behave!
Past Contests
Scavenger Hunt
Essay Contest
Missing Story
T-Shirt Contest
Comic Contest
Haiku Contest
Judges Haikus
Discussions
Forum
Forum Index
Chat







The Fellowship of the Ring
Hildebrandt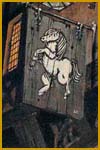 Book I - Chapter 10
Strider
Frodo, Sam and Pippin make their way back to their room, but Merry has still not return. They close the door behind them and are startled to find that Strider the Ranger has entered with them. They prepare to defend themselves, but Strider ensures them that he means no harm.

He explains that he wants to help them. He knows of the Black Riders and claims to know how to avoid them. He is about to tell them how when Butterbur knocks on the door with a message.

The innkeep is quite upset with himself because he has only now remembered that he has a message to deliver to Frodo. The message is from Gandalf, and it was supposed to have been sent to Hobbiton a month ago. Butterbur hands over a note to Frodo who eagerly recieves it.

The message, meant to be read a month ago, urges Frodo to leave the Shire immediately. It also tells that Strider is a friend of Gandalf's and should be trusted in all matters. Strider proves that he is indeed the same Strider of Gandal'f message just as Merry comes rushing into the room.

"Black Riders!", he cries.

He had been attacked by Black Riders while walking through the village and had only been saved by the approach of Nob, the hobbit assistant sent out by Butterbur to find him. The frightened hobbits are now on their guard. They fear that the Riders may attack in the night. At Strider's insistance they move to a more secure room with no outside windows.



Previous Chapter / Next Chapter

Back to TOP OF PAGE







What's New??
Middle-earth
Magnets
Site News
Themes
All Themes
Random
Readers' Section
Fan Fiction
Signs
This Site
Welcome Page
Site News
Contact Us
Our Team
More ...
Tolkien Links