Support
the
Downs
The Books
Middle-earth FAQ
Encyclopedia
The Books
Book List
Articles
Tengwar Scriptor
Chronology
Talking Tolkien
Name Generators
All-in-One
Fun and Games
Middle-earth
Magnets
Personality Test
Gaffer's Proverbs
Crosswords
Grave Matters
Quizzes
Walk to Rivendell
Location Finder
Mad Libs
Malbeth the Seer
LotF
Barrow-Comics
Hanghobbit
Oh! Behave!
Past Contests
Scavenger Hunt
Essay Contest
Missing Story
T-Shirt Contest
Comic Contest
Haiku Contest
Judges Haikus
Discussions
Forum
Forum Index
Chat







The Fellowship of the Ring
Book I - Chapter 5
A Conspiracy Unmasked
Carol Emory Phenix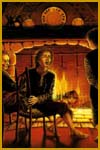 click artist or image

As the four hobbits cross the Brandywine River on the ferry, they look book and see that they have once again narrowly escaped the Black Riders, one of which can be seen on the landing which they just left. The scared hobbits hurry on through the night to Frodo's new home.

At Crickhollow they find Fatty Bolger preparing supper and a hot bath. The three weary travelers gladly relax, but Frodo makes up his mind that he must leave the Shire at once. With the Black Riders following, there is no time to waste.

Frodo is at first shock and dismayed when he learns that Sam has shared his secret with Merry, Pippin and Fatty. They all know his plan to leave, and they all intend to come with him. His shock turns to joy when he realizes what good friends he has, and he happily agrees to let them come along.

To avoid the Black Riders, they decided to ride through the Old Forest rather than take to the Road where the Riders will most definitely be looking. Fatty refuses to go into the Old Forest because he and most people in Buckland believe it is haunted. Frodo sees no other way, though, so they pack their bags and get a few hours rest before they leave.



Previous Chapter / Next Chapter

Back to TOP OF PAGE







What's New??
Middle-earth
Magnets
Site News
Themes
All Themes
Random
Readers' Section
Fan Fiction
Signs
This Site
Welcome Page
Site News
Contact Us
Our Team
More ...
Tolkien Links